Hi! Back again today to share with you one more layout created for The Dusty Attic. This is my last Design Team layout for the Dusty Attic. I am finishing up with them at the end of this month with the only reason is that it is a conflict between a new Design Team and Dusty Attic . I am sorry to let go of Dusty Attic as I LOVE the chipboard and products very much but the decision was made and now here we are.
I would LOVE to thank Jennifer and Jenny for having me on this team and asking me back then. This was a DREAM TEAM for me and I was ecstatic to join them.
But anyway we move on..
Don't forget to check out their new and revamped blog
HERE
where you can also join in the monthly sketch challenge
"Love This"
OK so this looks kinda busy doesnt it? And it looks like a lot of work went into it yes? Well its true.. a lot of layering here .. but it did not take too long.
Firstly, as with all my layouts I applied clear gesso. From there I used one of my favourite stencils from Memory Box called
Distressed Grid
on opposite sides of the page. In Australia you can find this stencils at The Scrapbook Store
HERE .
You can also find the chipboard pieces I have used here at The Scrapbook Store once again
HERE
SO once the embossing paste dried up, I stamped some images in the background with the Prima Stitch stamp and then coloured the squares and the embossing paste with
Luminarte Ginger Peach, and Jasmine.
These too are available at the Scrapbook Store :)
I also used these colours to paint my Dusty Attic chipboard pieces after painting them with Gesso first
Just above you can see the Small Number Grid from Dusty Attic. I love this piece. I like breaking it up so it doesnt look too square.
Beautiful colours over the embossing paste, using a bit of water too blend them nicely.
A few splatters for contrast.
Materials List
Dusty Attic
Scribble Heart ( DA1019)
Number Grid small (DA1071)
Number Grid large (DA1061)
Love This, Love that title ( DA1074)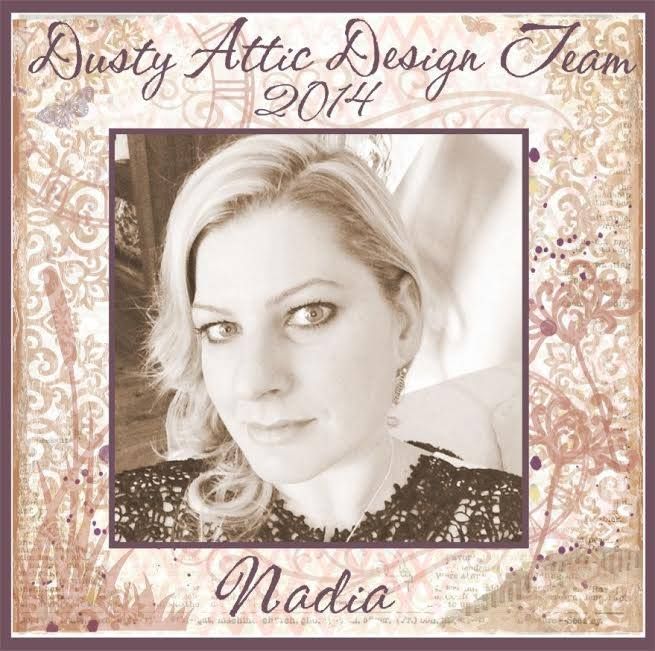 I hope you have been inspired today :) Let me know if you have.... I love to hear about it :)
You can email me at nadiac78@hotmail.com or drop me a message on my Facebook account
Find Me Here...