Hi! How are you all doing? Getting ready for Christmas no doubt :)
Today I am excited to share with you something a little different. I was invited by the lovely Natasha aka
Frau_Muller
to be a Guest Designer at
Scrap Memory
, a Russian challenge blog.
It is an awesome place. You need to check it out and see some amazing inspiration.
This is the December challenge
You can make any project (lo, cards, tag what you want) but it MUST contain :
1 inspiration: cold, winter, woman,
defenselessness
, pride
2 elements: snow, photo of woman, texture paste, white acrylic, glossy, branches
1 word : queen, wind , cold, power, defenselessness,
SO here is what I came up with..
This is an 8"x10" canvas I created and I used sand texture paste and a
Prima Bubbles Stencil
to prepare the background.
The #23 is a special date in mine and my husband's lives, while the #1 is the number of our current house.
I used a mixture of Lindy's Stamp Gang Industrial Chic mists and magicals to colour the background and the chipboard houses. What is REALLY strange is that this canvas was sitting unfinished on my desk the day the designer of the Industrial Chic set Limor Webber came to MY house and saw her product all over my desk LOL! It was a bit surreal..









The Chipboard houses are actually called Studio 490 Wendy Vecchi Art Parts. These, together with the canvas, sun stencil and newspaper paper came in the October kit at
Frog Dog Studio.
Once the background was ready, I added these very beautiful Manor House Collection flowers. You can get some of these at The Scrapbook Store
HERE
or for other stockists please look
HERE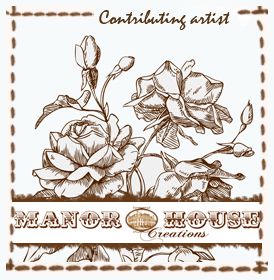 Sublime - Cream
Mayglo - green
Vinette - Jade
I hope you have been inspired in some way!
Thank you for dropping by today :)
Find Me Here...