Hi everyone.. boy it has been a while since I have blogged "live".. These days, the majority of my posts are pre scheduled about a month in advance. This is the only way I know how to cope and to make sure that I have worked well in advance on DT projects that should life become crazy (how much more crazier I have no idea!LOL) then I at least have time to work on things . I confess, I am not a last minute kinda person!
Everything is going really well.. Sofia is 6 months along and we have started solid food :) Fun days for an OCD clean freak like me when pumpkin ends up EVERYWHERE but her mouth lol
The older girls are going really well too. Maria finishes Year 1 in about 3 weeks, while we only have a couple of months left before Ioanna starts big school in late January .. this will be hard for me. Very hard.
As for me, all is well. Well.. "well" is relative isnt it? If by well we mean healthy, alive, and grateful for everything we have then..yes I am doing extremely well.
Is it hard with 3 kids? You bet! There is no waking moment when they don't ask for something! Not because they are naughty children.. not even close. But its because they ARE children and having children and raising GOOD children is HARD work , all day, every single day.
Would I change anything? Not one little bit.. there are MANY hard days. But when I look at Sofia, and then I look at my eldest Maria and realise how quickly time goes.. well.. it all becomes clearer. Do I say to myself "I CANT DO THIS ONE MORE DAY?".. heck yes! Every day.. Then, I am back again the next morning doing it all over again LOL! I just want a day off.. ok, maybe a week would do it but i just want a little time off to maybe shower at an appropriate time, and drink ONE coffee ONE day without being asked "mummy, mummy, mummy what are are having? Can I have some? " LOL! And just to think that 1 of the 3 kids doesnt even talk yet LOL!
This is life yes?
Anyway, I am so proud of this next card I am posting here today. I have been playing around with some mixed media and stencils etc lately and I love how the background turned out here.
Manor House Creations Products:
Believe paper – Dreams come true
Ornate frame – Gothic white
Flowers – Letters from Paris
Flexible words – Love black.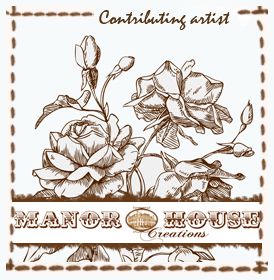 Thanks for dropping by today and letting me vent.. I feel better now :)
Till next time my friends :)