Hi! How is your weekend going? Mine has been wonderful, but unfortunately coming to an end, as its Sunday night here...Looking forward to a break from work, as we have 2 weeks school holidays here in Sydney. So many things to do though...but just nice to be doing them at my own pace.
So, it is with GREAT delight and honour that I announce that I was invited some months back by my wonderful friend
Cynthia Llorens
to be Guest Designer at the brand new international challenge blog
Scrap For Help
. I love this site. I love how they have challenges with a twist, and that the Design Team are from all over the world, with different styles! I love that throughout the whole month , the Design Team shows ideas for projects and inspiration for all sorts of things. You need to follow them and see what I mean.
I was asked by Cynthia to create a sketch for this challenge, which you need to follow together with the following criteria..
Theme: friends
This is my niece Mary. She is almost 11. She is my older brother's first born daughter and I have also baptised her. I am VERY close to her. From very little, she has been looked after by my parents while her parents are at work. I have grown so close to her in all this time, because I am at my parents house every day, and before I had my children I would spend long periods of time after work at my parents. So I saw her very very often . But its not just that. She is a very lovable child. She is warm and kind, caring ...considerate. She is super smart and has been in an advanced class since very little. This makes her mature, and although I am her aunty, we are also friends too. She is friendly and I love having her over my house because she is such a good kid. I love her as much as I love my other nieces and nephews..which is like they are all my own.
I should say here that this photo is about 5 years old...I was actually about a week pregnant here with Maria Elena, but I didnt know yet. THIS is why I look so young, and refreshed..LOL! The sleepless nights and stress started soon after this. LOL!
I have used one of my FAVOURITE collections of all time, Bo Bunny's Gabrielle. Is it not just to die for?
I have used the following Bo Bunny products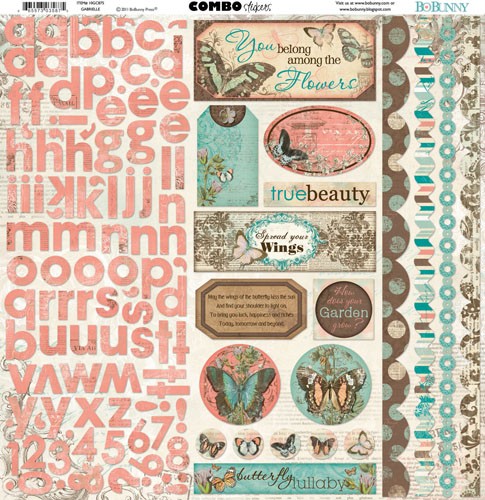 12x12 sticker sheet

12x12 cut outs

die cut

chipboard Sheet
All the flowers are from Prima.
I do hope you get a chance to play along and support this GREAT site. You will find all the information you need
HERE
.
Thank you so much for having me as a Guest! Loved it!
Have a great week everyone.